Curb Appeal Award Program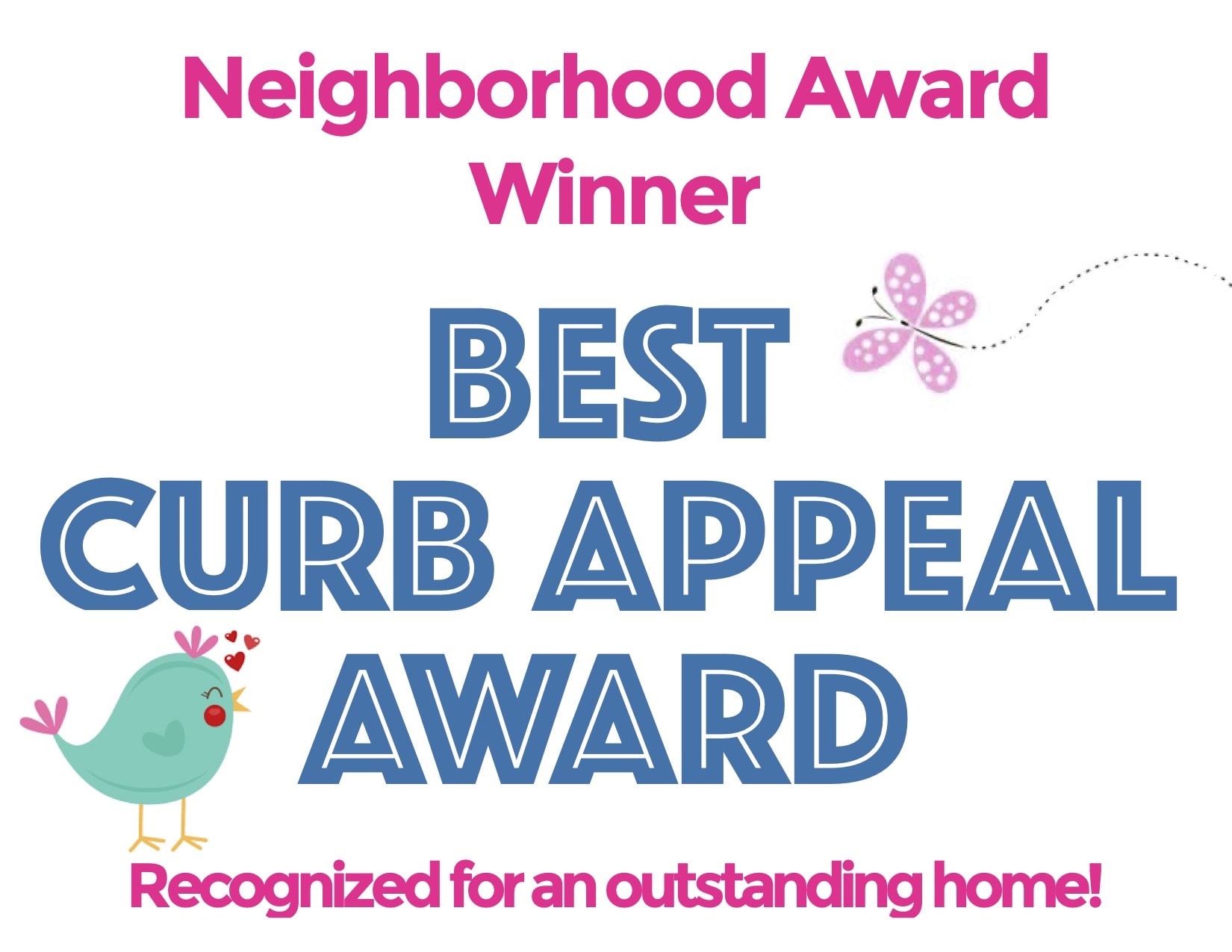 Winners are displayed below.

Overview

The purpose of this program is to recognize our fellow community neighbors who demonstrate above average efforts in maintaining their property, thereby contributing to the overall appearance and beautification of the community at large.
Neighbors and community Realtors, will be sponsoring a self-governed Curb Appeal Awards Program from October- March.
All award winners will receive an official curb appeal lawn sign, to be placed on their property.
Curb Appeal winners will also be recognized on our social media page, neighborhood page (if applicable), and other potential advertising/media outlets.
We congratulate all Curb Appeal Award Nominees and encourage all neighbors to join the efforts of these homeowners in keeping their yards and homes beautiful. Thank you!
Award Rules
-Contest will run October-March (new property selected each month)
-All current properties located in participating subdivision are automatically eligible by default.
Realtor and resident submissions, will select one home from your community monthly (based on number of submissions).
-Realtor will place the Curb Appeal sign in the yard on the 15th of each month with a special selection during holidays i.e. Halloween and Christmas.
-Key criteria include manicured yard, beautification, originality and creativity.
-The upkeep of the yard can reflect the efforts of the residents themselves or that of a professional landscaper (if you use a professional landscaper please provide Company/Individual name as they will get recognition as well).
-Award duration term runs from the 15th of the month to the 15th of the next month. (Sign will be proudly displayed for up to 15 days)
-The same property cannot receive more than one award in the same rolling 12 month calendar period. (October and December are the only 2 exceptions).
-Each resident may nominate any yard in the neighborhood including their own by submitting the online form in the link below.
Recommended Judging Criteria:
-Factors include overall appearance, tidiness of the property as evidenced by pruned, trimmed and shaped foliage, edged and defined lawns, borders & flower beds and a visually appealing façade. We are looking for great curb appeal!
-Walkways and driveways should be clean and tidy.
-Evening appearance after dusk including lighting and safety lighting help make properties stand out.
-Aesthetics of the of landscaping (formal versus informal, use of color and textures, garden art, fountains etc.). Inviting look of front entry (hanging baskets, pots, cleanliness etc.) affect the overall look from the street.
Sponsored by: